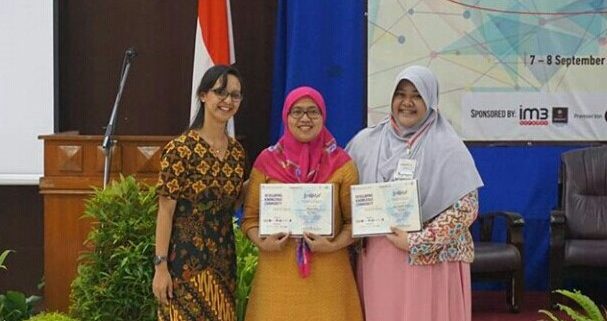 Dosen Prodi Ilmu Komunikasi (Ilkom) Fakultas Psikologi dan Ilmu Sosial Budaya (FPSB) Universitas Islam Indonesia (UII) kembali ukir prestasi. Penelitiannya bersama Noer Ayufika Nulul (Mahasiswa Ilkom) yang berjudul "Analisis Komunikasi Partisipatif Masyarakat Industri dalam Mendukung Branding Kota" berhasil meraih Best Paper di ajang Conference on Media, Communications and Sociology (COMICOS) yang diselenggarakan di Universitas Atma Jaya Yogyakarta, Jumat, 8 September 2017. COMICOS sendiri merupakan konferensi tahunan yang digagas oleh Prodi Ilmu Komunikasi, Fakultas Ilmu Sosial dan Politik, Universitas Atma Jaya Yogyakarta.
Menurut Mutia, penelitian tersebut berawal dari asumsi bahwa branding kota bukanlah suatu proses yang tiba-tiba. Akan tetapi branding kota merupakan aktivitas yang menuntut sinergitas dari semua pihak, baik pemerintah, warga kota maupun masyarakat industri. Menurutnya masyarakat industri bisa menjadi agen yang dapat membantu menguatkan merek sebuah kota melalui aktivitas produksi maupun distribusi produk yang dilakukan.
Hasi penelitian keduanya menunjukkan adanya hubungan antara partisipasi masyarakat industri dalam mendukung branding kota di tahapan implementasi dan pemanfaatan hasil. Adapun bentuk komunikasi partisipatif yang dilakukan adalah heteroglasia, dialogis, poliponi dan karnaval.
"Saya pribadi sudah 2 tahun terakhir ini menekuni riset di bidang branding kota. Riset pertama terkait branding kota dilakukan di kota Bandung dimana hasil riset tersebut dipublikasikan pada 2nd World Conference on Media and Mass Communication 2016 di Bangkok Thailand. Harapan saya kedepannya agar hasil-hasil penelitian kolaborasi dosen dan mahasiswa tidak hanya didokumentasikan di perpustakaan saja, melainkan harus aktif diikutsertakan pada ajang-ajang ilmiah seperti ini. Selain itu,sy berharap kedepannya mampu menorehkan prestasi yang lebih baik lagi", ungkapnya
Selamat dan semoga membawa berkah/kebaikan untuk semua. Aamiin.
https://fpscs.uii.ac.id/wp-content/uploads/2017/09/2017-Mutia-Best-Paper-COMICOS-2017.jpeg
440
607
fpsb uii
http://fpscs.uii.ac.id/wp-content/uploads/2017/08/FPSB-logo-1030x346.png
fpsb uii
2017-09-13 11:18:32
2017-11-16 02:50:20
Dosen dan Mahasiswa Prodi Ilmu Komunikasi Raih Best Paper COMICOS 2017