Dosen Komunikasi Tampil di IDF 2017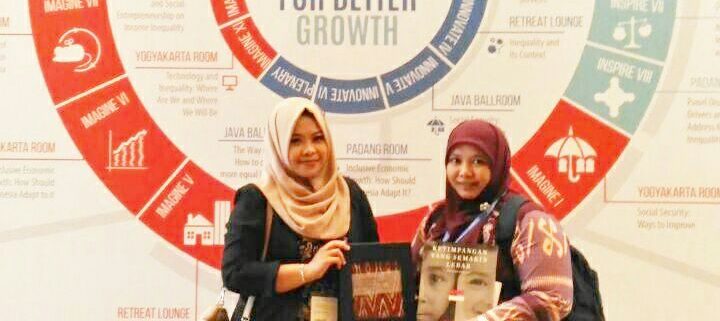 Literasi TIK dengan Model Empowering 8 dalam Pengembangan Website di Kabupaten Tanah Bumbu Kalimantan Selatan. Demikian judul paper karya Dosen Prodi Ilmu Komunikasi (Ilkom) Fakultas Psikologi dan Ilmu Sosial Budaya (FPSB) Universitas Islam Indonesia (UII), Sumekar Tanjung, M.A. dan Puji Hariyanti, M.I.Kom yang berhasil masuk dalam 44 makalah terbaik dan berhak dipresentasikan pada ajang INDONESIA DEVELOPMENT FORUM (IDF) 2017 di Westin Hotel-Gama Tower, Jakarta, 9-10 Agustus 2017.
Kegiatan bertema Fighting Inequality for Better Growth yang diselenggarakan oleh Kementerian Perencanaan dan Pembangunan/Bappenas dan bekerjasama dengan Knowledge Sector Initiative dan Australian Government tersebut dihadiri oleh Direktur Daerah Tertinggal Transmigrasi dan Pedesaan Kementerian PPN/BAPPENAS, Sumedi Andono Mulyo beserta wakil presiden RI, Jusuf Kalla. Beberapa praktisi, peneliti, LSM, dan pelajar pun juga turut hadir dalam acara tersebut.
"Dalam acara ini, paper kami masuk dalam subtema Technology and Inequality: Where Are We and Where Will We Be? Paper ini sebenarnya baru berupa rencana pengabdian masyarakat kami berdua di Kabupaten Tanah Bumbu Kalimantan Selatan. Sebelumnya paper ini kami submit ke Call for Paper untuk diseleksi. Kami adalah satu dari 44 pemakalah yang menang dan terpilih untuk mempresentasikan ide. Tidak menyangka karena ada sekitar 555 paper yang masuk ke panitia IDF", ungkap Sumekar Tanjung.
Melalui program tersebut kedua penulis berharap agar warga dapat mengenali kebutuhan dan menentukan cakupan TIK, mengaksesnya secara efisien, mengevaluasi informasi beserta sumbernya, mengintegrasikan informasi yang diseleksi ke dalam pengetahuan, menggunakan TIK secara efektif, mengakses dan menggunakan TIK secara etis dan legal, serta mampu menyadari pentingnya literasi TIK untuk pembelajaran secara mandiri.
https://fpscs.uii.ac.id/wp-content/uploads/2017/08/Sumekar-Tanjung-dan-Puji-Hariyanti-2.jpeg
1280
720
Darzan Hanan M
https://fpscs.uii.ac.id/wp-content/uploads/2017/08/FPSB-logo-1030x346.png
Darzan Hanan M
2017-08-14 10:59:39
2017-08-14 11:06:33
Dosen Komunikasi Tampil di IDF 2017