Tengok Peluang Studi Lanjut di Amerika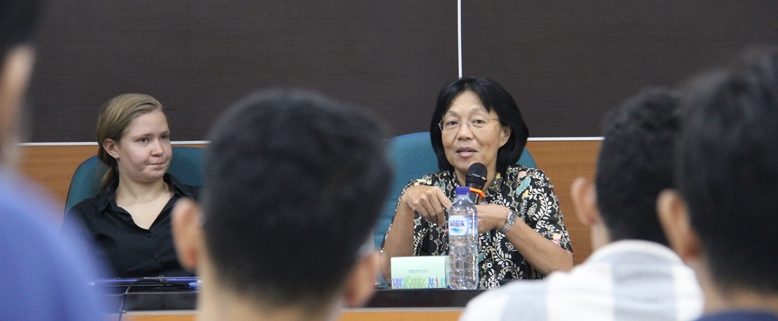 Saya sarankan agar selesai S1, jangan buru-buru lanjut S2. Cari dulu pengalaman bekerja selama lk. 1 tahun. Dari pengalaman itu biasanya nanti akan muncul passion yang tepat. Demikian kiranya saran yang disampaikan oleh oleh Prof. Krisna Suryanata (Associate Professor, Department of Geography, University of Hawai at Manoa) dan juga Arifah Mardiningrum (Fullbright Awardee) pada acara talkshow bertema Studi di Amerika Serikat yang diselenggarakan oleh Program Studi Hubungan Internasional (HI) Fakultas Psikologi dan Ilmu Sosial Budaya (FPSB) Universitas Islam Indonesia (UII), Jumat, 11 Mei 2018 di R. Auditorium FPSB UII Lt. 3. Selain kedua pembicara di atas, turut dihadirkan pula seorang penelitia mahasiswi peraih beasiswa Fullbright asal Universitas California, Gillian Irwin untuk berbagi pengalaman.
Menurut Ka. Prodi HI, Irawan Jati, S.IP., M.Hum., M.S.S kegiatan tersebut dilakukan untuk memberikan gambaran peluang studi lanjut ke Amerika Serikat bagi mahasiswa HI yang sudah memasuki masa akhir studi.
Prof. Krisna sendiri dalam paparannya banyak memberikan motivasi sekaligus tips untuk bisa meraih beasiswa ke luar negeri. Menurutnya, seseorang harus tahu dulu bidang apa yang akan dicapai/dituju agar awalannya (jurusan saat s1 lebih sesuai saat akan menempuh studi lanjut).
Sementara Arifah Mardiningrum juga berbagi pengalamannya selama meraih atau pun menkmati segala fasilitas beasiswa Fullbright. "Semua urusan terkait pembayaran SPP dll sudah diurukan oleh pihak Fullbright. Saya sama sekali tidak mengurus apa-apa. Hanya saja, proses untuk memperoleh beasiswa Fullbright itu yang membutuhkan perjuangan", ungkapnya.
https://fpscs.uii.ac.id/wp-content/uploads/2018/05/2018-HI-Studi-Lanjut-ke-Amerika.jpg
518
778
Darzan Hanan M
https://fpscs.uii.ac.id/wp-content/uploads/2017/08/FPSB-logo-1030x346.png
Darzan Hanan M
2018-05-11 11:15:37
2018-05-11 11:15:37
Tengok Peluang Studi Lanjut di Amerika