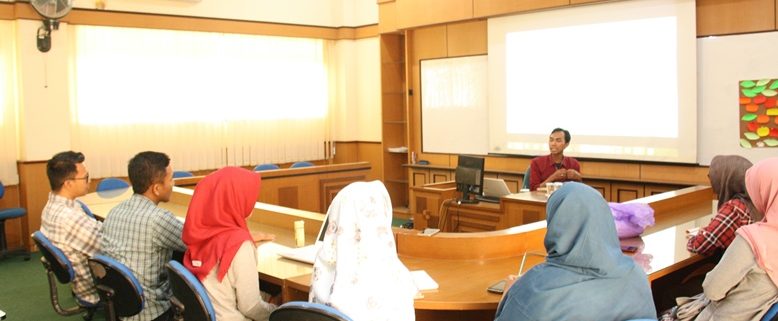 Ilmu Psikologi sebagai sebuah disiplin ilmu terus mengalami perkembangan termasuk di negara-negara Eropa sendiri seperti Spanyol, setelah sebelumnya Wiliam Wundt (1832-1920) mendirikan the Institute of Experimental Psychology di University of Leipzig, Jerman di mana cikal-bakal Ilmu Psikologi lahir. Ilmu Psikologi masuk ke Spanyol dengan tipe serupa, yaitu ketika Luis Simarro (1851-1921) mendirikan the First Experimental-Psychological Laboratory di Fakultas Sains University of Madrid, Spanyol pada tahun 1902 diikuti oleh Ramon Turro (1854-1925) yang juga mendirikan Psychophyisiological Laboratory tahun 1906 dan laboratorium kedua Spanish Laboratory of Experimental Psychology tahun 1922. Demikian pengantar yang disampaikan oleh Nur Haris Ali pada acara diskusi bulanan yang diselenggarakan oleh Program Magister Psikologi Profesi (MAPPRO) Fakultas Psikologi dan Ilmu Sosial Budaya (FPSB) Universitas Islam Indonesia (UII), Selasa, 12 September 2017. Nur Haris Ali atau akrab disapa Haris sendiri merupakan alumni Prodi Psikologi FPSB UII yang saat ini mendapatkan beasiswa konsorsium Program Master Erasmus jurusan Work, Organizational, and Personnel Psychology di University of Valencia Spain dan University of Coimbra, Portugal.
"Pasca Spanish Civil War tahun 1936-1939 semua perkembangan psikologi di Spanyol lenyap," ungkap Haris. "Tapi pasca itu, modern psychology kembali terbentuk dengan 6 bidang area waktu itu: Methodology in Behavioral Sciences, Psychobiology, Psychology of Basic Processes, Developmental-Educational Psychology, Social Psychology, dan Personality and Psychological Assessment and Treatment," imbuhnya. Menurut sejarah, Psikologi di Spanyol banyak didominasi oleh industri dan organisasi. Wajar bila sosial politik negara Spanyol pada waktu Spanish Civil War ikut memberikan pengaruh pada perkembangan ilmu Psikologi di negara ini.
Beberapa rekonstruksi tradisi Psikologi sebagai sebuah disiplin ilmu pasca perang bisa dilihat, lanjut Haris, antara lain: terbentuknya Spanish Society of Psychology tahun 1950, terbentuknya Professional School of Psychology and Psychotechnics tahun 1953, dan School of Psychology di University of Barcelona yang memiliki fokus pada bidang Psikologi Pendidikan dan Industri.
Jika dicari persamaan terkait asosiasi Psikologi antara Spanyol dengan Indonesia, lanjut Haris, asosiasi yang hampir sama dengan Himpunan Psikologi Indonesia (HIMPSI) di Eropa yaitu EFPA – European Federation of Psychological Associations. EFPA bertanggung jawab dalam memberikan serifikasi professional psikolog di semua perguruan tinggi di Eropa. "Bedanya, jika lulusan psikolog misal lulus dari kampus di Spanyol, mereka bisa menggunakan jasa psikologinya secara praktek di semua negara-negara Eropa, tidak hanya di Spanyol saja," terang Haris.
Pada kesempatan diskusi bulanan itu hadir pula Ketua Program Magister Psikologi Profesi Dr. H. Fuad Nashori, S.Psi., M.Si, Psikolog dan sejumlah mahasiswa dari beda angkatan dan beda bidang psikologi. Di kesempatan diskusi tersebut, sejumlah mahasiswa juga bertanya terkait perkuliahan di Spanyol dan kehidupan di sekitarnya. Haris berpesan bahwa di manapun tempat belajar kesulitan-kesulitan pasti ditemui. "Jika kita merasa sulit, ya di situlah berarti Tuhan memberikan kita pelajaran. Makanya kita 'belajar'. Kalau sudah pintar, bukan 'belajar' lagi," pungkasnya.
https://fpscs.uii.ac.id/wp-content/uploads/2017/09/2017-Diskusi-mappro.jpg
518
778
Widodo Hesti Purwantoro
https://fpscs.uii.ac.id/wp-content/uploads/2017/08/FPSB-logo-1030x346.png
Widodo Hesti Purwantoro
2017-09-13 11:12:42
2017-09-13 11:12:42
MAPPRO Kaji Perkembangan Psikologi di Spanyol