FPSB Gelar Pelatihan Layanan Prima bagi Tendik dan SATPAM

Ada 3 pilar dalam pelayanan prima (service excellent), yakni Produk, proses dan sumberdaya manusia. Melayani mestinya dilakukan dengan penuh rasa bahagia. Melayani membuat sesuatu yang berbeda. Perubahan menuju sesuatu yang baik membutuhkan proses. Demikian poin materi awal yang disampaikan oleh Veny Hidayat, S.Psi., M.Psi., Psikolog pada kegiatan Pelatihan Layanan Prima staf Tenaga Kependidikan dan SATPAM Fakultas Psikologi dan Ilmu Sosial Budaya (FPSB) Universitas Islam Indonesia yang diselenggarakan pada Jumat, 2 September 2022 di Puri Asri Hotel Magelang.
Kegiatan dibuka langsung oleh Dekan FPSB UII, Dr. Phil. Qurotul Uyun, S.Psi., M.Si., Psikolog. Dalam sambutannya Qurotul Uyun menegaskan bahwa setiap Tenaga Kependidikan dan juga SATPAM memiliki peran yang sangat penting dalam proses berjalannya organisasi FPSB UII. "Jangan pernah ada yang minder. Semua merupakan bagian penting di FPSB UII", tuturnya.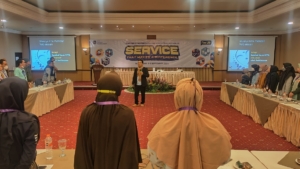 Lebih jauh dalam paparannya Veny Hidayat banyak menyampaikan terkait komunikasi efektif dalam organisasi, prinsip-prinsip dalam layanan prima, termasuk berbagi tips menghadapi manusia sulit atau manusia yang suka menyulitkan di dalam pekerjaan kita.
Selain Veny Hidayat, dalam pelatihan tersebut juga menghadirkan Coach Rochiem, M.A. sebagai pemateri dengan menyampaikan materi berjudul To Lead and To Serve.
Kegiatan sendiri diakhiri dengan kegiatan rafting bersama pada Sabtu, 3 Septmber 2022 dengan menyusuri Sungai Elo Magelang.
https://fpscs.uii.ac.id/wp-content/uploads/2022/09/Layanan-prima-fpsb.jpg
648
1152
Widodo Hesti Purwantoro
https://fpscs.uii.ac.id/wp-content/uploads/2017/08/FPSB-logo-1030x346.png
Widodo Hesti Purwantoro
2022-09-04 15:05:12
2022-09-09 15:06:31
FPSB Gelar Pelatihan Layanan Prima bagi Tendik dan SATPAM