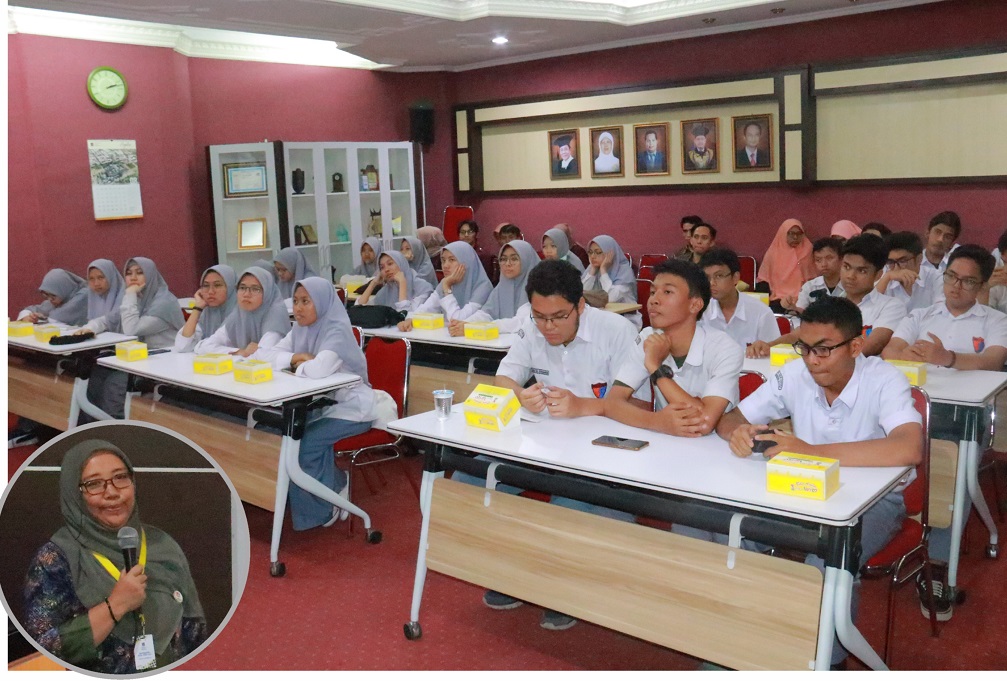 Dalam rangka mengenalkan sekaligus memotivasi para siswa untuk studi lanjut usia lulus SMA kelak, pihak sekolah SMA Islam Sinar Cendekia Tangerang Selatan menyelenggarakan program Goes to Campus ke daerah Joga-Jateng. Salah satunya, mereka berkunjung ke Fakultas Psikologi dan Ilmu Sosial Budaya (FPSB) Universitas Islam Indonesia (UII), Rabu, 28 Agustus 2019. Kehadiran rombongan yang berjumlah sekitar 30 siswa dengan 5 orang guru pendamping tersebut disambut hangat oleh Wakil Dekan Bidang Keagamaan, Kemahasiswaan dan Alumni, Dr. Phil. Emi Zulaifah, M.Sc bersama Tim Marketing and Communications (MARCOM) FPSB UII.
Dlaam sambutannya, Emi Zulaifah juga sempat menyampaikan selayang pandang tentang sejarah berdirinya UII sebagai perguruan tinggi nasional tertua yang didirikan oleh para pendiri Republik Indonesia. Sesaat kemudian, para siswa mendapatkan informasi lebih detil terkait proses masuk atau mendaftar sebagai calon mahasiswa UII, skema beasiswa yang bisa diperoleh, informasi seputar UKM dan informasi lainnya yang disampaikan oleh Tim Marcom FPSB UII.
Kegiatan diakhiri dengan tanya jawab dan foto bersama.

https://fpscs.uii.ac.id/wp-content/uploads/2019/09/kunjungan-SMA-Islam-Sinar-Cendekia-Tangsel.jpg
681
1007
Widodo Hesti Purwantoro
https://fpscs.uii.ac.id/wp-content/uploads/2017/08/FPSB-logo-1030x346.png
Widodo Hesti Purwantoro
2019-09-03 10:27:52
2019-09-03 11:01:19
SMA Islam Sinar Cendekia Silaturrahmi ke FPSB UII