Assalamu'alaikum wr. wb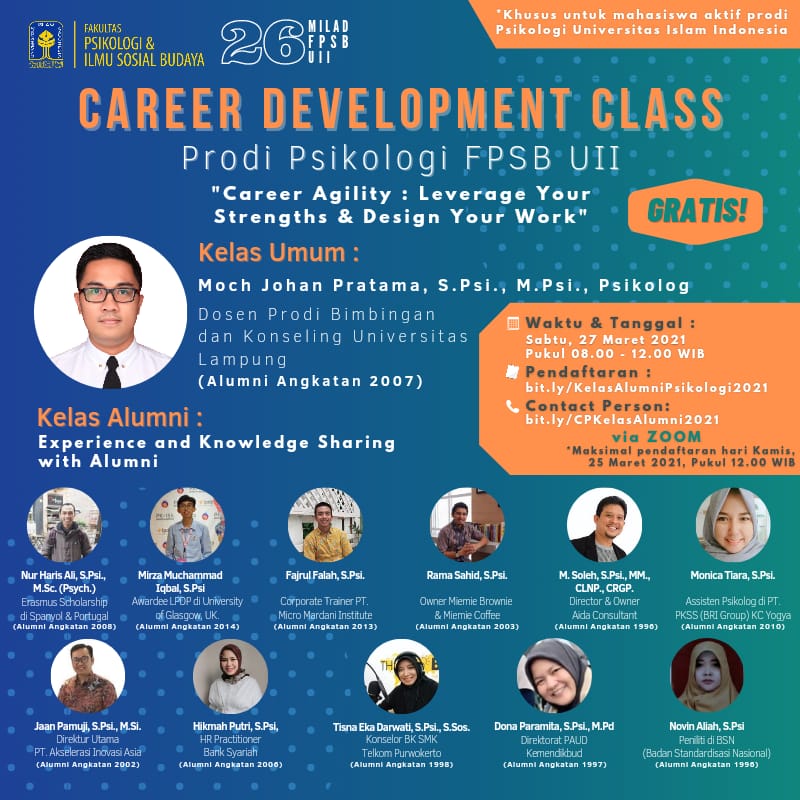 Halo teman-teman semua! semoga teman-teman dalam keadaan sehat dan bahagia yaa!
Ngomongin tentang karir sebagai lulusan psikologi di masa depan, gimana gambaran teman2 tentang berkarir nanti? Nah, yuk kita ikuti Webinar yang diadakan oleh Prodi Psikologi UII berikut:
CAREER DEVELOPMENT CLASS
📌Tema:
"Career Agility : Leverage Your Strengths & Design Your Work"
📌Pemateri Utama:
Moch Johan Pratama, S.Psi., M.Psi., Psikolog
(Dosen Prodi Bimbingan dan Konseling Universita Lampung)
— Kelas Alumni —
Experience and Knowledge Sharing with Alumni
📌Pemateri :
– Nur Haris Ali, S.Psi., M.Sc(Psych.)
– Mirza Muhammad Iqbal, S.Psi
– Fajrul Falah, S.Psi
– Rama Sahid, S.Psi
– M. Soleh, S.Psi., MM., CLNP., CRGP.
– Monica Tiara, S.Psi
– Jaan Pamuji, S.Psi., M.Si
– Hikmah Putri, S.Psi
– Tisna Eka Darwati, S.Psi., S.Sos
– Dona Paramita, S.Psi., M.Pd
– Novin Aliah, S.Psi
.
Webinar akan diselenggarakan pada:
🗓Hari/Tanggal: Sabtu, 27 Maret 2021
🕗Waktu : 08.00 – 12.00 WIB
🎬 Tempat : Via Zoom Meeting (ID Meeting: 451 016 5689)
.
Pendaftaran dapat dilakukan melalui link dibawah ini:
https://bit.ly/KelasAlumniPsikologi2021
.
Maksimal Pendaftaran hari Kamis, 25 Maret 2021
.
Yuk teman-teman segera daftar, ya! 😊 pastinya seru banget, dan ada banyak perspektif baru tentang karir sebagai sarjana psikologi yang bisa kita dapatkan dari alumni-alumni kita. Sampai jumpa teman-teman!
https://fpscs.uii.ac.id/wp-content/uploads/2021/03/Caree-Development-Class-Copy.jpeg
243
791
Widodo Hesti Purwantoro
https://fpscs.uii.ac.id/wp-content/uploads/2017/08/FPSB-logo-1030x346.png
Widodo Hesti Purwantoro
2021-03-22 03:04:49
2021-03-22 03:04:49
Career Development Class