Becoming Resilient Learners & Future Tech Savvy English Teachers in Post Pandemic COVID-19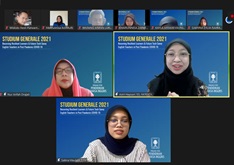 Becoming Resilient Learners & Future Tech Savvy English Teachers in Post Pandemic COVID-19. Demikian tema besar yang diangkat dalam studium generale atau kuliah umum Prodi Pendidikan Bahasa Inggris (PBI) Fakultas Psikologi dan Ilmu Sosial Budaya (FPSB) Universitas Islam Indoesia (UII), Senin, 4 Oktober 2021. Kegiatan ini mengundang Dr. Nur Arifah Drajati sebagai pemateri dan Astri Hapsari, S.S., M.TESOL sebagai moderator.
Dalam paparannya, sosok pendidikan (dosen) di Universitas Sebelas Maret (UNS) ini menyampaikan terkait pentingnya menjadi seorang guru sekaligus pembelajar yang tangguh, termasuk pentingnya penguasaan teknologi maju saat ini untuk dipergunakan dalam mendukung proses pembelajaran tersebut.
Lebih jauh beliau menambahkan tentang cara menjadi seorang guru sekaligus pembelajar yang tangguh dengan pemanfaatan penguasaan teknology (savvy technology) pada proses pembelajaran Bahasa Inggris.
Untuk bisa menjadi seorang guru dan pembelajar yang tangguh, hendaknya jangan terlalu khawatir saat menemukan masalah. Bahkan, sebisa mungkin mencari banyak masalah untuk kemudian berusaha mengetasi masalah tersebut sebagai modal yang baik dalam menambah pengetahuan. Diibaratkan dengan orang yang sedang membangun tubuh yang kuat, maka orang tersebut akan melakukan hal yang sebenarnya menjadi sebuah masalah bagi orang yang tidak mau membangun tubuhnya, yakni dengan olahraga yang keras.
"Kalau membangun itu pelan-pelans, sabar, ingin tahu lebih besar, terus belajar dan akhirnya menemukan banyak kesempatan dan mengambil banyak tantangan yang ada. Melebihkan diri anda dengan kesempatan-kesempatan yang ada. Semua dilakukan untuk survive and thrive (bertahan dan melesat)", ungkapnya.
Sedang strategi untuk membagun pembelajar dan guru (Bahasa Inggris) yang tangguh, setidaknya ada beberapa hal yang perlu dilakukan, seperti 1) Menentukan tujuan (setting the goals), 2) Belajar dari kesalahan (learning from mistake), 3) Menginspirasi diri untuk mencoba sesuatu yang baru secara bertanggung jawab (inspiring responsible risk), 4)  Mengidentifikasi emosi sulit (indentifying difficult emotions), 5) Menulis dan membahas tentang kekurangan dan ketangguhan manusia (writing and discussing about setbacks and human resilience).
"We may to be brave, and also take chance and chalenges. Moreofere in this Pandemic, we can find some possibilities, and also good possibilities and also positive a think  that we can do as the learners, because we can learn no only from the classroom, but also outside on the classroom," pungkasnya.
Kegiatan diakhir dengan berbagi pengalaman bersama mahasiswa Prodi PBI yang pernah memperoleh kesempatan PPL Australia, yakni Adisa Tiara Kinasihing Ramadhan, Rahmad Saputra dan Mehrunnisa Ani Mufti.
https://fpscs.uii.ac.id/wp-content/uploads/2021/10/PBI-SG-2021.jpg
165
234
Widodo Hesti Purwantoro
https://fpscs.uii.ac.id/wp-content/uploads/2017/08/FPSB-logo-1030x346.png
Widodo Hesti Purwantoro
2021-10-07 10:25:37
2021-10-07 10:25:37
Becoming Resilient Learners & Future Tech Savvy English Teachers in Post Pandemic COVID-19