Institute for Global and Strategic Studies Diskusikan Masa Depan Afghanistan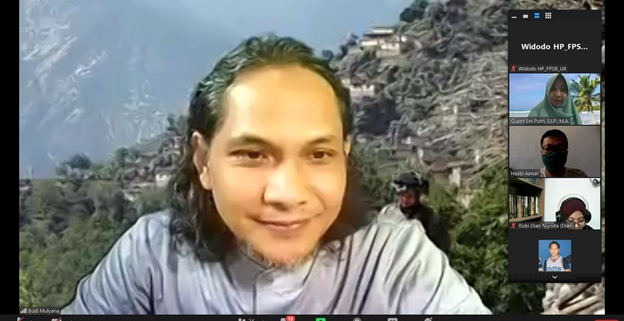 Taliban Revival: What's Next for Afghanistan. Demikian tema yang diangkat dalam acara diskusi publik yang diselenggarakan oleh Institute for Global and Strategic Studies (IGSS), Program Studi Hubungan Internasuional (HI) Fakultas Psikologi dan Ilmu Sosial Budaya (FPSB) Universitas Islam Indonesia (UII), Selasa, 24 Agustus 2021.
Hadir sebagai narasumber diantaranya adalah Budi Mulyana, S.IP., M.Si., Ph.D (Cand), Hadza Min Fadhli R obby, S.IP., M.Sc., dan Rizki Dian Nursita, S.IP., M.H.I. Sedang moderator disampaikan oleh Gustri Eni Putri, S.IP., M.A.
Dalam diskusi tersebut, masing2 pembicara menyampaikan pandangannya terkait kronologi terjadinya konflik hingga kemenangan yang peroleh Taliban di Afghanistan, kondisi politik dan geopolitik di Afghanistan dan juga masa depan perempuan di Afghanistan.
Dari ketiganya diperoleh gambaran akan perjuangan panjang yang dilakukan Taliban untuk melepaskan Afghanistan dari intervensi politik Amerika, ketidakpastian kondisi politik di Afghanistan serta kondisi wanita yang kurang mendapatkan haknya secara penuh (tidak memiliki kebebasan dalam pendidikan, interaksi sosial dll) seperti halnya para wanita di negara lain.
https://fpscs.uii.ac.id/wp-content/uploads/2021/08/IGSS-Revival-Afghanistan-1.jpg
351
624
Widodo Hesti Purwantoro
https://fpscs.uii.ac.id/wp-content/uploads/2017/08/FPSB-logo-1030x346.png
Widodo Hesti Purwantoro
2021-08-26 03:09:02
2021-08-26 03:11:48
Institute for Global and Strategic Studies Diskusikan Masa Depan Afghanistan