Launching Program "Career Mentoring", HI Gelar Webinar Peluang dan Tantangan Karir Bidang HI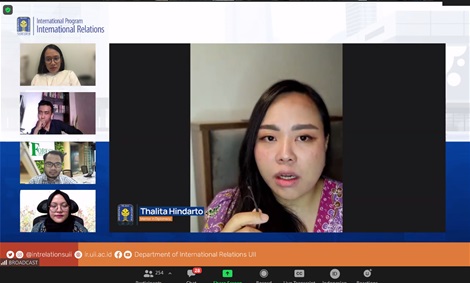 Dalam rangka launching atau peluncuran program "Career Mentoring" sekaligus memberikan wawasan terkait peluang dan tatangan pekerjaan (karir) di berbagai bidang profesional yang relevan dengan disiplin keilmuan hubungan internasional, Prodi Hubungan Internasional (HI) Fakultas Psikologi dan Ilmu Sosial Budaya (FPSB) Universitas Islam Indonesia (UII)  secara khusus menggelar webinar bertajuk "Your Future Starts Here: Preparing a Career While You're in College" atau "Masa Depan Anda Dimulai Dari Sini: Mempersiapkan Karir Saat Kuliah", Sabtu, 21 Agustus 2021.
Hadir sebagai pemateri dalam kegiatan tersebut adalah Thalita Hindarto (Diplomat di Kementerian Luar Negeri RI), Dinda Zakiah Wahid (Pusat Hak Serikat Pekerja), Ricky Iskandar (Humas di Forest Interactive), serta Vindi Kurniawan (Climate and Clean Energy Associate GAIA–Global Alliance for Incinerator Alternatives).
Thalita Hindarto yang saat ini mengemban amanah Wakil Konsul KJRI Indonesia di Istambul sejak Agustus 2020 lalu ini banyak memaparkan tentang peluang dan tantangan berkarir di bidang diplomasi serta strategi untuk berkompetisi meraih peluang tersebut. Sementara Dinda Zakiah Wahid yang saat ini juga sedang mengembang amanah sebagai Wakil Direktur Pusat Hak Serikat Pekerja (Deputy Director Trade Union Rights Centre and Project Coordinator Trade Union Rights Centre) juga banyak berbagai materi terkait tantangan dan peluang karir di bidang advokasi internasional.
Sedangkan Ricky Iskandar dan Vindi Kurniawan masing-masing berbagi pengalamanan seputar  dunia karir di bidang Bisnis Ekonomi Multinasional dan peluang karir di bidang penelitian internasional serta strategi pengembangan diri di bidang penelitian internasional.
Selain diikuti oleh mahaiswa Prodi Hubungan Internasional FPSB UII, kegiatan daring tersebut juga diikuti oleh guru Bimbingan Karir dan siswa dari berbagai Sekolah Menengah Atas di Yogyakarta.
https://fpscs.uii.ac.id/wp-content/uploads/2021/08/HI-Webinar-Karir.jpg
283
470
Widodo Hesti Purwantoro
https://fpscs.uii.ac.id/wp-content/uploads/2017/08/FPSB-logo-1030x346.png
Widodo Hesti Purwantoro
2021-08-23 09:18:18
2021-08-26 09:29:38
Launching Program "Career Mentoring", HI Gelar Webinar Peluang dan Tantangan Karir Bidang HI