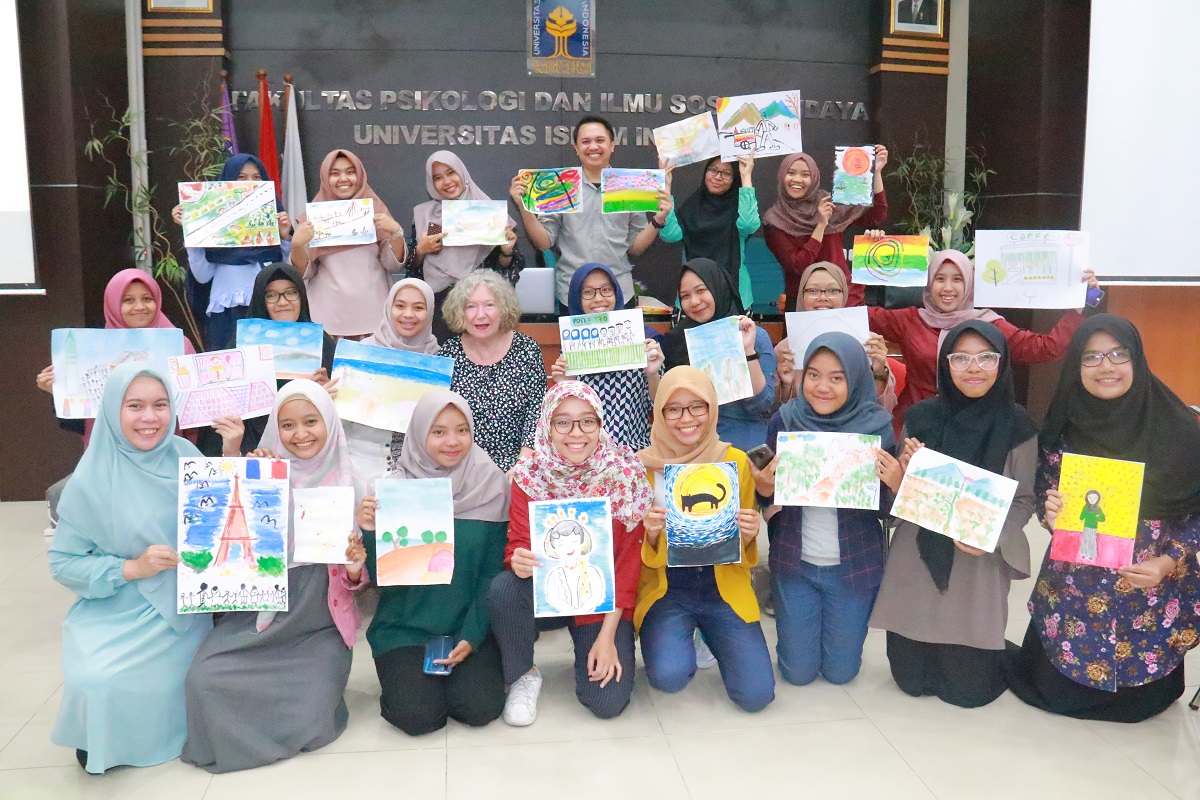 Dalam rangka visiting profesor emiritus Evelin Witruk dari Leipzig (Jerman), Prodi Psikologi Fakultas Psikologi dan Ilmu Sosial Budaya (FPSB) Universitas Islam Indonesia (UII) menggelar 2 kegiatan, yakni kuliah umum bertema Assesment and Intervention of Dyslexia pada hari Senin, 9 September 2019 dan workshop Art Therapy pada hari Rabu, 11 September 2019 di ruang Auditorium FPSB UII.
Pada kegiatan kuliah umum, peserta mendaptkan materi terkait definisi disleksia, penyebab disleksia maupun intervensi yang bisa dilakukan pada penderita disleksia. Sedangkan pada workshop art therapy, selain memperoleh materi seputar definisi art therapy, manfaat dan tujuan art theraphy, painting therapy, dan juga efek atau simbol warna pada terapi, peserta juga berkesempatan untuk praktek langsung painting theraphy.
Sebagai tambahan informasi bahwa menurut American Art Therapy Association, art therapy didefinisikan sebagai profesi kesehatan mental yang mapan yang menggunakan proses kreatif pembuatan seni untuk meningkatkan dan meningkatkan kesejahteraan fisik, mental dan emosional individu dari segala usia. Hal tersebut didasarkan pada keyakinan bahwa proses kreatif yang terlibat dalam ekspresi diri artistik membantu orang untuk menyelesaikan konflik dan masalah, mengembangkan keterampilan interpersonal, meningkatkan harga diri dan kesadaran diri, dan mencapai Wawasan yang lebh luas lagi.
https://fpscs.uii.ac.id/wp-content/uploads/2019/09/IMG_4159.jpg
800
1200
Widodo Hesti Purwantoro
https://fpscs.uii.ac.id/wp-content/uploads/2017/08/FPSB-logo-1030x346.png
Widodo Hesti Purwantoro
2019-09-17 10:02:29
2019-09-17 11:59:30
Psikologi Gelar Studium General dan Workshop Art Therapy bersama Prof Evelin Witruk