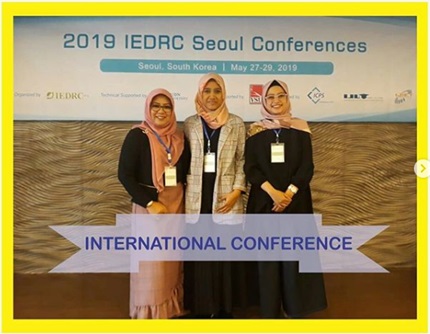 Penghargaan di forum Internasional kembali diraih oleh dosen Program Studi (Prodi) Pendidikan Bahasa Inggris (PBI) Fakultas Psikologi dan Ilmu Sosial Budaya (FPSB) Universitas Islam Indonesia (UII). Adalah Ista Maharsi, S.S., M.Hum yang berhasil meriah Best Paper Award melalui hasil penelitiannya berjudul "Pre-service Teachers' Reflective Practices Through Teaching Practicum e-Portfolio (Reflektif Praktis Calon Guru melalui Praktik Mengajar e-Portfolio) yang disampaikan pada kegiatan 2019 5th International Conference on Education and Training Technologies (ICETT 2019) yang berlangsung pada 27-28 Mei 2019 di Hoam Faculty House Seoul National University, Seoul, Korea (South).
Ista Maharsi bahwa capaian best paper tersebut harus dibarengi dengan semangat meneliti dan mengoptimalkan penulisan karya ilmiah agar dapat terpublikasi di jurnal yang bereputasi internasional maupun nasional.
Selain Ista Maharsi, turut serta menjadi sebagai presenter dalam ICETT tersebut adalah  Intan Pradita, S.S., M.Hum yang juga merupakan staf kependidikan (dosen) di prodi PBI.  Intan menyampaikan penelitiannya yang berjudul "Instructional Scaffolding to Stimulate Students' Involvement during Synchronous Online Learning (Instruksional Scaffolding untuk Menstimulasi Keterlibatan Siswa selama Pembelajaran Online secara Langsung)".
Sebagai tambahan informasi bahwa ICETT sendiri merupakan kegiatan konferensi yang bertujuan untuk mempertemukan para peneliti, ilmuwan, akademisi untuk bertukar ide dan berbagi pengalaman, gagasan baru dan hasil penelitian tentang aspek- aspek yang berkaitan dengan Teknologi Pendidikan dan Pelatihan, serta mendiskusikan tantangan praktis yang dihadapi di era global dan solusi- solusi terkait. Paper dalam ICETT nantinya akan diterbitkan dalam Scopus indexed proceeding.
https://fpscs.uii.ac.id/wp-content/uploads/2019/06/ICETT-2019.jpg
334
430
Widodo Hesti Purwantoro
https://fpscs.uii.ac.id/wp-content/uploads/2017/08/FPSB-logo-1030x346.png
Widodo Hesti Purwantoro
2019-06-25 11:22:53
2019-06-25 11:22:53
Ista Maharsi Raih Best Paper Award di ICETT Seoul 2019