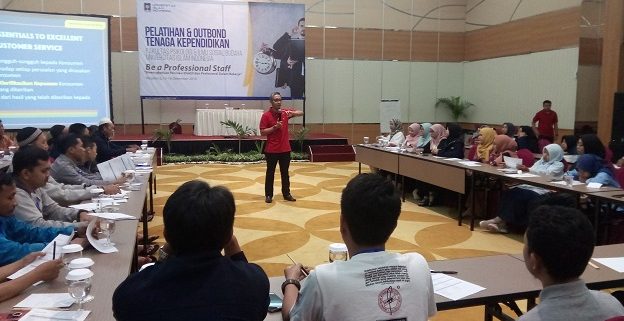 "Meningkatkan Perilaku Efektif & Profesional dalam Bekerja". Demikian tema yang diangkat pada pelatihan dan outbond Be a Professional Staff Tendik Fakultas Psikologi dan Ilmu Sosial Budaya (FPSB) Universitas Islam Indonesia (UII) yang diselenggarakan pada Sabtu-Minggu, 15-16 Desember 2018 di Atria Hotel Magelang dengan mengundang Agus Priyadi, S.Psi., M.Si selaku pemateri. Dalam sambutannya, Mira Aliza Rachmawati, S.Psi., M.Si selaku Wakil Dekan bidang Sumber Daya berharap agar melalui pelatihan tersebut nantinya akan terbangun kerjasama yang lebih baik lagi di antara tenaga kependidikan di FPSB UII. 
"Harus saling mengenal & memahami orang lain agar mudah bersinergi. Focus of interest dalam bekerja harus lebih ke arah positif. Pola pikir positif akan menjadikan seseorang berperilaku positif ", demikian kunci utama dalam membangun seinergi yang baik antara tendik yang disampaikan oleh Agus Priyadi mengawali materi pelatihannya.
Selebihnya, untuk menjadi seorang pribadi yang sukses Agus menuturkan ada beberapa kunci penting yang harus dimiliki, seperti memahami dan bisa mengoptimalkan potensi diri, memiliki peran pada kesuksesan orang lain, berusaha membuat karya yang manfaatnya jauh lebih lama dari usia, serta bisa menjadi rahmatan lil'alamin.
Sedangkan  dalam memberikan layanan, setidaknya ada 4 kunci utama yakni hayyin  (orang tenang dalam menghadapi apapun, damai, teguh, tidak grusa grusu),
layyin  (lemah lembut, bauk dalam tutur kata dan berbuat, nggak kasar, mainnya cantik, ngak suka semaunya sendiri, nggak galak), qarib (orang yang akrab, menyenangkan, murah senyum, mudah diajak berteman), dan sahl (orang yang tidak mempersulit urusan orang lain, selalu mmberi solusi dlm pelayanan, tidaj berbelit, tidak menyusahkan).

https://fpscs.uii.ac.id/wp-content/uploads/2018/12/IMG_20181215_204627.jpg
468
624
Widodo Hesti Purwantoro
https://fpscs.uii.ac.id/wp-content/uploads/2017/08/FPSB-logo-1030x346.png
Widodo Hesti Purwantoro
2018-12-21 13:58:34
2018-12-21 13:59:23
Be A Profesional Staff