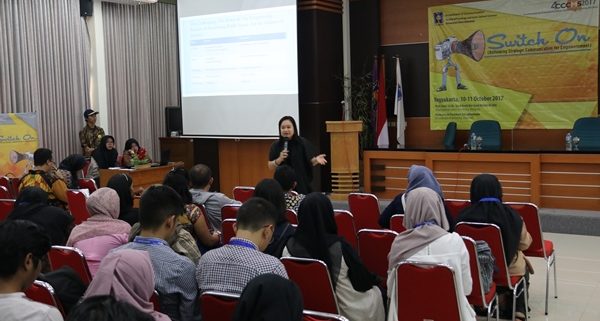 Prodi Ilmu Komunikasi (Ilkom) Fakultas Psikologi Dan Ilmu Sosial Budaya (FPSB) Universitas Islam Indonesia (UII) kembali menyelenggarakan Conference on Communication, Culture and Media Studies (CCCMS) atau Konferensi Kajian Komunikasi, Budaya dan Media, 10-11 Oktober 2017. Pada penyelenggaraan tahun ke-4 ini, tema yang diangkat adalah  Rethinking Strategic Communication for Empowerment (Memikirkan Kembali Komunikasi Strategis untuk Pemberdayaan) dengan menghadirkan Prof. Dato' Sri Dr. Syed Arabi Bin Syed Abdullah Idid dari International Islamic University of Malaysia (IIUM)  dan Prof. Dr. Parichart Sthapitanonda dari Faculty of Communication Arts,  Chulalongkorn University, Thailand sebagai pembicara. Untuk moderator dibawakan oleh Ida Nuraini Dewi Kodrati N,, S.I.Kom., MA (sesi 1) dan Raden Narayana Mahendra Prastya, S.Sos., MA (sesi 2).
Secara resmi kegiatan dibuka oleh Dr.rer.nat. Arief Fahmi., M.A., Psikolog selaku Dekan FPSB UII.
Dalam paparannya yang berjudul Studying PR: The Concept of Empowerment, Prof. Dato' Sri Dr. Syed Arabi Bin Syed Abdullah Idid  menyampaikan tentang pemanfaartan komunikasi strategis dalam proses pemberdayaan melalui bidang PR (Public Relations/Kehumasan). Secara khusus beliau paparkan terkait definisi PR dari beberapa pendapat dan sudut pandang, perkembangan PR, tantangan yang dihadapi dalam dunia PR, evolusi dalam dunia PR, dan sejarah PR di beberapa negara seperti America dan Inggris. Menurutnya pemberdayaan PR bisa lebih diutamakan dalam membantu menemukan solusi atas permasalahan dan isu yang ada. Sedangkan untuk teori bisa dijadikan sebagai langkah kedua.
Hampir senada dengan Prof. Dato' Sri Dr. Syed Arabi Bin Syed Abdullah Idid, Prof. Dr. Parichart Sthapitanonda juga banyak menyampaikan peran besar PR sebagai bagian dari komunikasi strategis dalam mengatasi berbagai permasalahan/isu yang ada.  Bahkan dapat juga untuk mengembangkan sebuah usaha. Beliau mencontohkan pemanfaatan PR pada pengembangan usaha Starbuck Coffe yang saat ini sudah berhasil mendunia. "Strategic communication can both lead to or obstruct the route of 'empowerment' since the power is in our hands of shaping the future', tuturnya.   
Selain sesi pemaparan materi, panitia juga menyelenggarakan enam sesi panel diskusi yang mengangkat isu Public Relations, Manajemen Komunikasi dan Perencanaan, Tanggungjawab Sosial Perusahaan (CSR), Komunikasi Pemasaran Terpadu, Perhotelan dan Komunitas Pariwisata, Organisasi komunikasi, Seni dan Budaya Populer, Konflik dan Resolusi, Manajemen Krisis, Gender, Komunikasi, dan Pemberdayaan, Komunikasi yang Dimediasi, Peraturan dan Kebijakan Media, Komunikasi Bisnis dan Pemasaran, serta Media Baru dan Aktivisme Digital.
Dari kegiatan yang diakhir dengan Lava Tour tersebut Ratna Permata Sari, S.I.Kom., MA selaku ketua panitia berharap para peserta bisa mendapatkan pengalaman akademik dari materi pembicara/keynote speaker dan juga dari sesi diskusi panel.  "Semoga CCCMS ke 5 nanti juga bisa terselenggarakan dengan baik", pungkasnya.
https://fpscs.uii.ac.id/wp-content/uploads/2017/10/2017-CCCMS1.jpg
400
600
fpsb uii
http://fpscs.uii.ac.id/wp-content/uploads/2017/08/FPSB-logo-1030x346.png
fpsb uii
2017-10-11 10:29:01
2017-11-06 21:55:27
Prodi Ilmu Komunikasi Gelar CCCMS ke-4