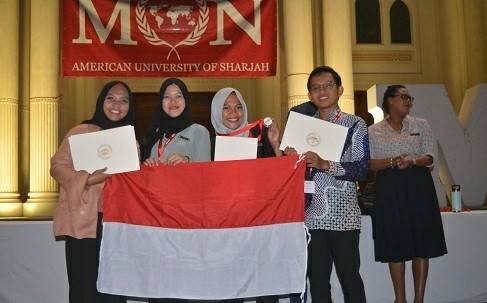 Mahasiswa Prodi Hubungan Internaisonal (HI) Fakultas Psikologi dan Ilmu Sosial Budaya (FPSB) Universitas Islam Indonesia (UII), Yuni Syeilla (2015) berhasil meraih penghargaan "Honorable Mention" di ajang American University of Sharjah Model United Nations (AUSMUN) yang diselenggarakan pada 8-10 Februari 2018 Dubai, UAE. Kegiatan ini diikuti oleh lebih dari 850 peserta yang berasal dari berbagai negara.
"Pada kesempatan ini saya Alhamdulillah berhasil meraih salah satu penghargaan dari lima kategori yakni "Honorable Mention" pada "World Food Programme/UN-WFP Council " dan merepresentatifkan Negara Republik Ghana yang merupakan Negara yang bagian Afrika barat dengan topic ""Establishing a Framework to Increase the Supply of Food through Technology" and "Water and Food Security". Terima kasih kepada pihak2 yang membantu saya. Pertama kepada keluarga saya yang selalu memberikan dukungan, kepada UIIMUN sebagai asosiasi yang mewadahi kegitan MUN mahasiswa UII dan mempercayakan saya untuk menjadi salah satu delegasi, kepada seluruh teman-teman yang selalu membantu dan memberikan dukungannya sejak awal hingga saat ini., ungkapnya.
Model United Nations (MUN) sendiri merupakan simulasi sidang PBB yang mempertemukan delegasi-delegasi dari berbagai sekolah dan Universitas di seluruh Dunia untuk dilatih dalam hal kepemimpinan, ketrampilan kerjasama, berpikir kritis dan solutif. Dalam prakteknya (simulasi sidang PBB) mereka belajar menegosiasikan/berdiplomasi terhadap sebuah keputusan yang dilihat dari berbagai cara pandang.
"Pada akhir perlombaan akan menghasilkan suatu solusi dalam bentuk kebijakan yang dapat diimplementasikan dan disepakati oleh seluruh delegasi sebagai representative Negara. Namun sebelum sampai pada sebuah kesepakatan, setiap delegasi akan beradu/berdebat argumen, permasalahan, dan solusi yang diberikan sesuai dengan topic dan stand negaranya. Sehingga dibutuhkan pemahaman yang mendalam baik pada topic ataupun Negara yang direpresentatifkan,  dibutuhkan ketrampilan menggunakan bahasa inggris secara formal, dan perlu di garis bawahi perdebatan dalam MUN harus bersifat diplomatis mengingat kita sebagai delegasi negara pada sidang PBB", tambahnya.
Penggemar kuliner bakso kelahiran Toli-Toli, Sulawesi Tengah yang gemar traveling, memasak, dan mencoba hal baru yang bisa menggali potensi diri ini juga berharap agar pencapaian yang dia raih dapat menjadi motivasi bagi seluruh mahasiswa dalam menggali potensi di ajang nasional dan internasional dengan tetap semangat dalam mencari ilmu.
Putri  dari Syarifuddin dan Hartia ini meyakini bahwa where is a will there is a way. "Dimana ada niat di situ ada jalan, maka perbaiki niatnya insyaAllah jalanya juga pasti baik", pungkasnya.
http://fpscs.uii.ac.id/wp-content/uploads/2018/02/AUSMUN-2018.jpeg
303
487
fpsb uii
http://fpscs.uii.ac.id/wp-content/uploads/2017/08/FPSB-logo-1030x346.png
fpsb uii
2018-02-19 10:10:53
2018-02-19 10:10:53
Mahasiswa HI Raih Honorable Mention di AUSMUN 2018